Introduction about the Gaming Industry
Gaming is the act of playing electronic games, using some form of technology. One who plays games and is good at it is often known as a 'gamer' or 'hard-core gamer'. There are numerous types of games, including ones played on different devices, different genres, online and offline, team, and individual ones. However, a career in the field of gaming is not limited to playing games. Instead, it is a highly competitive field where one needs to be creative and tech-savvy to succeed.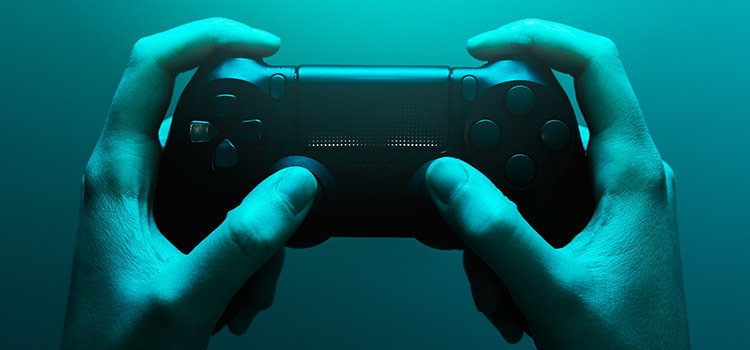 Currently, the field of gaming is a fast-evolving entertainment sector. Being a professional in this field would mean that one is open to a range of exciting opportunities and is also a part of a larger gaming community. Typically, a game development team consists of writers, programmers, designers, animators, modelers, and engineers.
Careers in the Gaming Industry
There are numerous career opportunities in the gaming industry, ranging from being a pro-gamer to designing and developing the games. Here are some of the most sought after careers in this field-
1. Professional Gamer or Pro-Gamer
A professional gamer plays video games and is extremely talented in a particular game or may create an entertaining experience of playing the game. They earn a living through competitions and tournaments. Many games can be mastered, including MOBA (Multiplayer Online Battle Arena), online card games (such as poker and blackjack), FPS (First Person Shooter), to name a few.
Career Path
There are no specific courses one must complete or educational qualifications to be obtained to become a pro-gamer. One has to focus on one game and master it through constant practice. He/she should then move on to playing in competitions conducted by eSport organizations and later aim to get a sponsorship. If one is excellent, it is also possible to participate in national and international championships representing one's country.
2. Writer
A game is based on a story or a narrative. Therefore, writers do the job of developing scripts, storylines, dialogues, and narratives. They may also be involved in other technical writing with regards to the game, such as instruction manuals and in-game menus. A writer plays a crucial role in making a game exciting and rapturing. They are required to design creative and catchy ideas for carrying the game forward, simultaneously ensuring adequate details of the content they develop. There are also opportunities to work as a translator or interpreter in the gaming industry.
Career Path
One can become a writer in the gaming industry after completing a Bachelor's in English Literature or Mass Communication. Completing certification programs such as Creative Writing/Script Writing will also enable one to hone skills specifically for this career.
3. Game Animator
A game animator is responsible for designing, animating, and re-creating characters or objects in games. They use their artistic and creative potential to develop interactive images and environments in games. While working as a game animator, one also collaborates with artists, designers, and programmers to ensure that the developed components match the overall style of the game.
Career Path
After 12th, this career can be pursued through diploma programs, certificate programs, and degree programs in game designing, animation, graphics, art, illustration, and similar fields. Further, it is also necessary to learn computer packages such as Maya and 3D Max and obtain hands-on experience through internships.
4. Game Artist
The creation of 2D and 3D visual elements is the critical role of a Game Artist. The elements include background, objects, vehicles, characters, clothing, textures, and coloring. They work with game designers and creative directors to include intricate details of these features in the games making sure that the overall experience of the game is improved. To be a game artist, one needs to be handy with specialist software packages and tools such as ZBrush, Maya, Photoshop, 3DS Max, Substance Painter, and Mudbox. One will also be required to animate the creations to make the game more realistic.
Career Path
To become a game artist, one can choose to pursue diploma or degree courses in areas such as computer graphics, art, illustration, animation
5. Audio Engineer
An audio engineer works on designing the sound-track of the game, which includes creating and reviewing the sound effects, background music, ambiances, and voice-overs of the game. He/she is expected to be creative and imaginative in addition to possessing specific technical skills. The critical skills required in an audio engineer are to use audio recording equipment and software, produce sound effects, select appropriate artists for voice roles, and even compose music based on the requirements of the game. An audio engineer works with producers and designers to ensure that the sound effects are in line with the other aspects of the game.
Career Path
It is advisable to choose Physics and Mathematics at the 12th level. After 12th, one can opt for diploma programs, certificate programs, or degree programs in sound or audio engineering, audiography, and recording arts.
6. Game Designer
A game designer creates the story and related elements in the game, including the narrative features, character bio, storylines, rules, levels, weapons, vehicles, etc. He/she will also be an integral part of designing characters, graphics, tools, arms, and other game aspects. While working on gaming designing, one needs to be skilled at color theory, refining forms, computer programming, and coding. They are responsible for overseeing the creative process, thereby working with programmers, animators, audio engineers, and producers.
Career Path
To become a game designer, studying Physics and Mathematics at the 12th level is preferred. After 12th, one can either pursue a Bachelor's program in Game Design. One can also pursue B.Tech/B.E in Computer Engineering or Computer Science.
7. Game Programmer
The primary responsibility of a game programmer is to develop codebases for the game. One should be an expert in coding and software programming to pursue this line in the gaming industry. A game programmer works with a game designer to understand the requirements and then develops a suitable code to create a playable and controllable game. Having specialized knowledge of individual programming languages or working on specific platforms will also aid in one's career in this field. A game programmer should also ensure that features of the game are interactive.
Career Path
Choosing the Science stream at the 12th level is beneficial if one wishes to complete engineering courses in fields such as Computer Science. Some other courses one can pursue at the undergraduate level include Bachelor's in Game Programming, Game Development, and Computer Applications.
8. Game Tester
A game tester works similarly as a pro-gamer. However, they play the game intending to identify errors. They are in charge of repeatedly playing the game levels and testing it for bugs, errors, voice-overs, dialogues, speed, and other elements. This ensures that when the game reaches the user, they have a smooth experience. They may also be called software testers, or quality assurance (QA) testers. To be a game tester, one requires a keen eye for detail and has to be methodical. Once they find any errors, they report it to the respective team and finally give the permission for the release of the game once it is error-free.
Career Path
One can become a game tester if one is very good at playing games and has a keen eye for detail. After 12th with science subjects, one can opt for a B.Tech/B.E. degree in Computer Science. Obtaining the "ISTQB Certified Tester" certification from the Indian Testing Board (ITB) will further enhance one's skills and open up more opportunities for career growth.
9. Creative Director
The main job of a creative director is to oversee the entire development of the game. He/she will work with other teams from creating the concept until the final approval of the game. They ensure that all the elements match the overall look and feel of the game. They will also work on the gameplay, audio and visual style, story, narrative, and marketing elements.
Career Path
As a creative director works with all the teams in the game development process, it is preferred that they know the significant aspects. Therefore, after 12th, one can choose courses in game design, game art, game development, graphic design, and programming. Further, knowing different languages and 3D modeling skills would be an added benefit.
10. Game Producer
The responsibility of a game producer includes being involved in the entire process of the game development cycle. They play a significant role in the planning, coordinating, and supervising of the game development. They wear multiple hats and act as the editor, producer, and manager of the game. On the whole, they act as the guide towards completing the game, finalizing it for sale, and promoting it in the industry.
Career Path
To become a game producer, one can pursue courses in business, computers, or designing after 12th. Some of the recommended courses include game design, computer science, digital media, computer programming, art, mathematics, accounting, communication, animation, and digital modeling.
Sruthi Suresh